Intelligent AS/RS makes warehouse management more convenient, accurate and efficient
---
Is your warehouse still in the "manual-forklift-shelf" mode? The disadvantages of traditional warehouse management and operation mode are highlighted when one product has multiple storage locations, multiple goods are stored together, material boxes have different specifications, receiving and delivering volume is large, and high shelf operation is required.
Warehouse management is a very important link in enterprise management, whose level directly reflects the operation efficiency of an enterprise. With the continuous and rapid economic development, the demand of domestic manufacturing industry, logistics industry, etc. for warehouse business is increasing, the original storage capacity of flat warehouses cannot match the production capacity, and the problems of low operation efficiency, low space utilization rate and high management cost need to be solved urgently.
Warehouse keeper: Storage needs to be methodical
With years of experience in R&D, design and project implementation of intelligent logistics system integration, JINGSHI Electromechanical Technology Co., Ltd., a wholly-owned subsidiary of HNAC Technology, has independently developed an intelligent AS/RS to create an intelligent and all-round "warehouse keeper" for enterprises to help them increase efficiency and reduce costs, and realize digital transformation and upgrading.
The intelligent AS/RS is mainly composed of warehouse shelves, stackers, warehouse in-and-out conveying equipment (conveyor and AGV), automated conveying system, information identification system, automated operation system, WCS (warehouse control system), WMS (warehouse management system) and other auxiliary equipment. It is an integrated system of highly automated and intelligent multi-system information.
The AS/RS is employed to realize intelligent storage, retrieval, and handling of goods through stacked RGV/AGV and other logistics facilities and equipment as well as information interconnection between WMS and upper computer system (MES/ERP), and finally realize automatic identification, detection, sorting, storage and tracking of goods. It is capable of efficiently connecting material supply and workshop production, mastering the warehouse status in real-time, and improving the warehouse management level.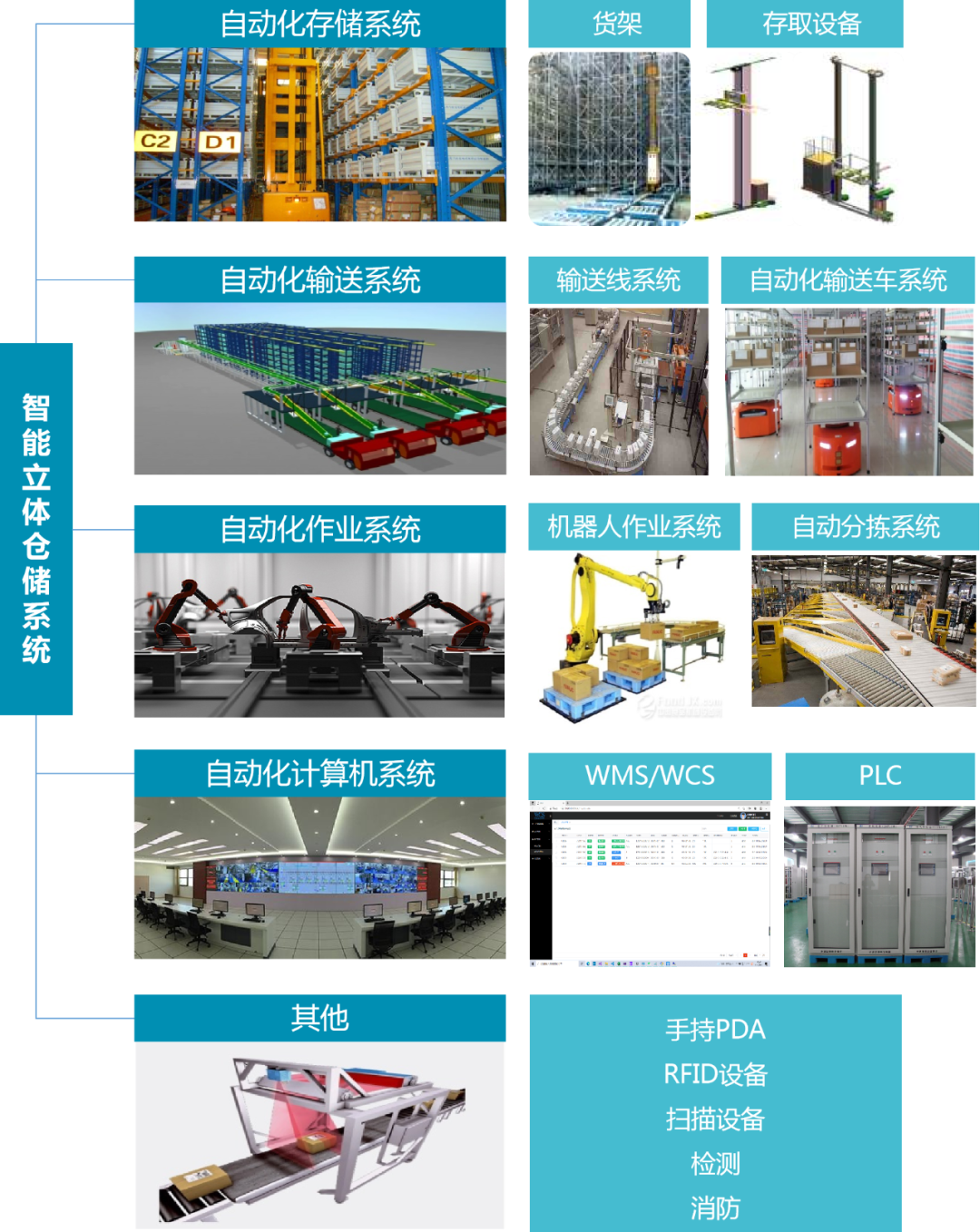 The intelligent AS/RS has the advantages of small area occupation, fast warehouse in-and-out speed, low labor cost, high data accuracy, etc. over traditional warehouses, and has been widely used in new energy lithium battery production enterprises, grain, oil and food production enterprises, raw material and finished product warehouses of ceramic production enterprises, and new energy vehicle battery swapping stations and so on.
Improve "efficiency" with "intelligence" to empower enterprises to upgrade warehouse management
Intelligent AS/RS represents a major trend of future warehouse development, and with the support of AI, big data, IoT and other technologies, the demand of enterprises for it is increasing day by day.
The intelligent AS/RS customized by the company has been fully applied in the raw material storage, proportioning and dissolution workshop of a new energy enterprise. The project has a storage clearance height of 10m and nearly 5,000 storage locations. The main body of the project is a batch of AS/RS with stacked AGV as storage and retrieval equipment as well as supporting facilities and equipment.
Through the construction of the AGV intelligent warehouse and WMS/WCS system, the efficiency for material warehousing is increased from 32 tons/bag/hour to 45 tons/bag/hour, and the labor force is reduced from 9 to 4, thus realizing the dynamic management of materials. The project has the following highlights:
Based on the industry attributes, all equipment in this project is strictly controlled in copper and zinc metal foreign matters, active parts are protected and isolated, and AGVs are charged in a contactless mode to ensure safe and reliable equipment operation;
With laser navigation technology, the path planning is flexible, realizing intelligent obstacle avoidance and collision avoidance;
The system is open, compatible, real-time and expandable, with simple operation, intuitive data and accurate information.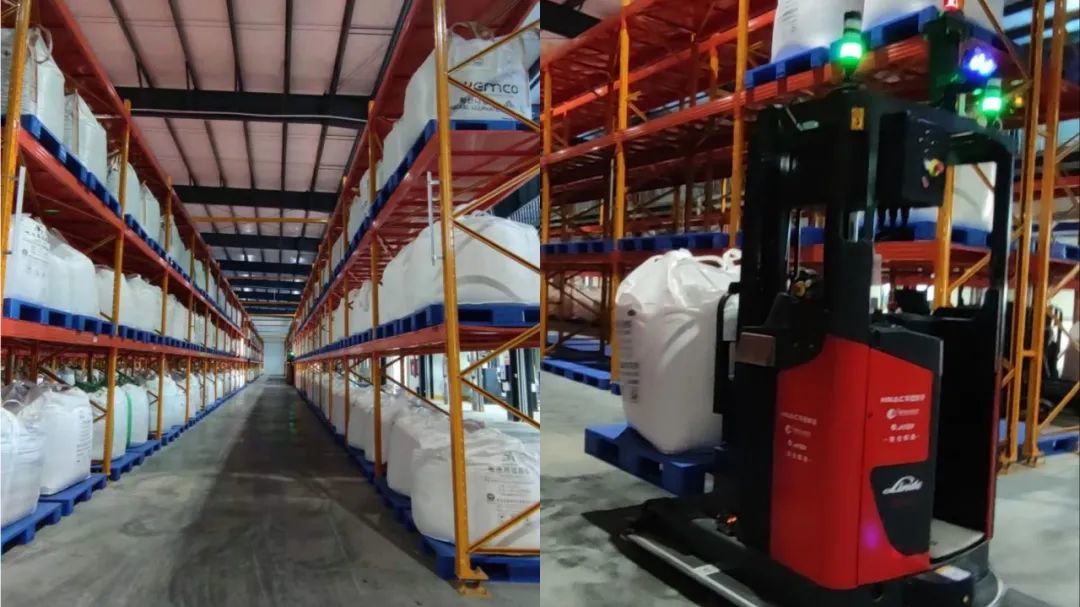 Warehouse Shelves Forklift AGV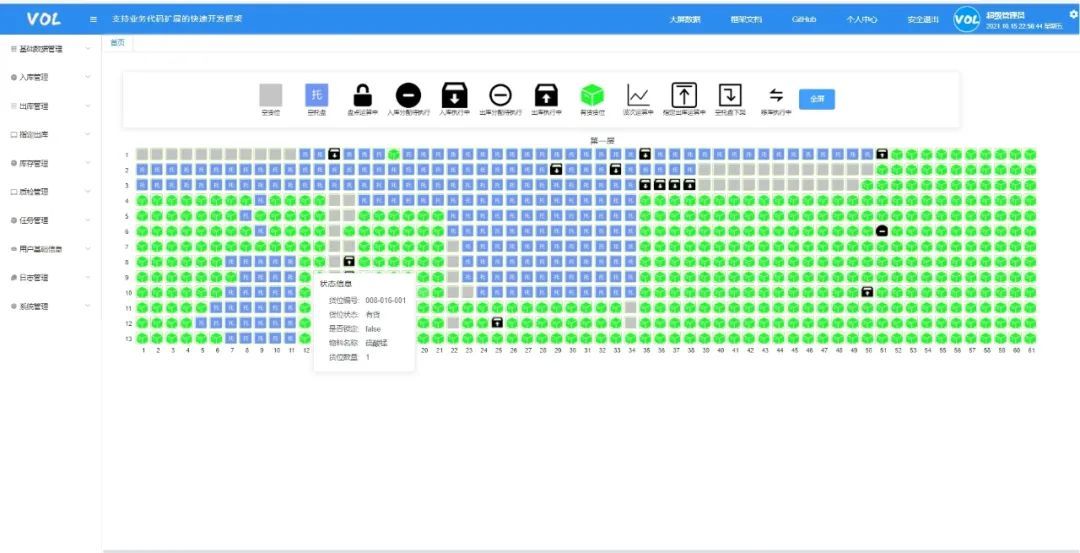 WMS
With the gradual reduction of the demographic dividend, digitalization and intelligence are one of the long-term strategies for all industries to improve their manufacturing capacity and management level. Aiming at the pain points of the industry and the needs of customers, HNAC Technology, in cooperation with the subsidiary JINGSHI Electromechanical Technology, continues to innovate, actively explore new modes and technologies for warehouse management, and make efforts to create standardized, unmanned and lean industry intelligent stereoscopic warehouse solutions to help enterprises intelligent transformation.
Contact
Address of Shenzhen Operation Center:
Building 3#, Vanke Xingcheng, Futong Road, Baoan District, Shenzhen City, Guangdong Province.
Tel: 0755 -29512169 Fax: 86-0755 -29512285
Address of Wuhan Manufacturing Base:
No. 600, Huian Avenue, Lingkonggang Economic and Technological Development Zone, Wuhan City, Hubei Province.
Tel: 86-027-59309999 Fax: 86-027-59306666
Address of Changsha Manufacturing Base:
No. 151, Xinsheng Road, Yuelu District, Changsha City, Hunan Province.
Tel: 86-0731-88238888 Fax: 86-0731-88907777
E- mail: jsh@szjsh.com Web: www.szjsh.com
WeChat account
---
COPYRIGHTS © 2022 Jingshi Automation Machinery Technology Co., Ltd.
---